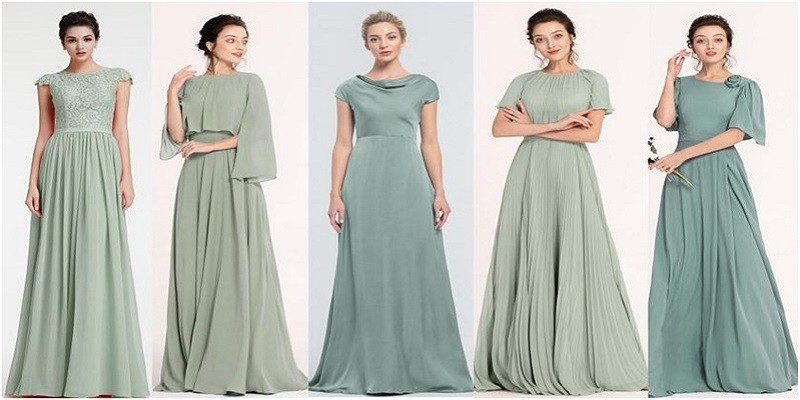 6 Top Cost-effective Modest Eucalyptus Green Bridesmaid Dresses
Eucalyptus is undoubtedly the answer When we talk about the most popular bridesmaid hue for 2023 weddings. Brides and their squad love it for its versatility that can match beautifully with nearly all colors and flattery that look good on all skin tones. We have done the research for you and handpicked a selection of stunning dresses in the serene and elegant eucalyptus green color. These eucalyptus green bridesmaid dresses not only offer a budget-friendly option but also embrace a subtle design. Join us as we explore these unique dresses that combine cost-effectiveness with timeless charm.
This dark eucalyptus green bridesmaid dress is crafted from chiffon fabric. The middle wide round neck looks good on all body shapes, while the elbow-length flutter sleeves provide a modest look. A beautiful flower embellishment graces the side of the neck, adding a whimsical and romantic detail. The A-line skirt features large pleats on the side, creating graceful movement and a flattering silhouette.
The eucalyptus dress features nearly all popular elements, is versatile, and flatters all body shapes. It is made of satin, exuding a refined and timeless appeal. The elegant cowl neck is among the hottest trends 2023, while the cap sleeves complete the modesty. With its minimalist design, this dress embodies understated elegance. Every body shape will look good in the A-line silhouette, and it is equipped with two convenient side pockets. The dress is crafted with no bra pads or boning, your bridesmaids will feel cool and free in it, and they can wear either under the garment they love.
This dress is the perfect option if you want to add some relaxing atmosphere to your wedding. This stunning eucalyptus bridesmaid dress is crafted from chiffon fabric. The modest O neck offers modesty, while the long sleeves with slits to the elbow provide a stylish and contemporary twist. The sleeves are made of one-layer chiffon fabric, and it will look pretty and light even for a beach ceremony. The popover top adds a relaxed feel to the dress, making it comfortable and fashionable. The A-line skirt is flattering to any body type and creates a timeless silhouette.
Overall pleating adds structure to the look and is eye-catching and stunning. This gorgeous bridesmaid dress in a light eucalyptus color is made of chiffon, exuding an air of grace and elegance. The flutter-shaped short sleeves look good on all body shapes, and they are a whole piece from shoulders that will help balance the look for too broad or too narrow shoulders. The overall pleating detail throughout the dress creates a sense of movement and texture, adding visual interest. The A-line skirt is flattering any body type.
This light eucalyptus dress is simple, elegant, and tasteful. It is made from a thick chiffon fabric that drapes beautifully. The boat neck adds a touch of sophistication, while the long sleeves provide a graceful and modest look. The slight loose pleated details at the top add a subtle element of texture and movement.
The dress is among the best sellers with its simple and elegant design. The lace top is perfect for mix-n-matching textures for your squad. The modest round neck is in medium width and depth, flattering for every body type. The lace shoulders and cap sleeves can fit perfectly as hugging with a little stretch. It can also be made all solid for more strict modesty needs. The waistband forms a defined waist and is very friendly for rectangle, apple, and pear-shaped girls. Also, the ending is the elegant, flattering A-line skirt with a formal floor length.
We used to shop for bridesmaid dresses as shown initially, and many brides didn't know that the colors, the styles and designs, all can be customized to your needs. For example, to change the shape of the sleeves, the width or depth of the neckline, the embellishments, and decorations, all is makeable at eDresstore.com.
In conclusion, searching for cost-effective bridesmaid dresses in the beautiful eucalyptus green shade can be rewarding and budget-friendly. This article presents six top choices of modest eucalyptus green bridesmaid dresses that combine affordability with style. These dresses offer a range of designs, fabrics, and lengths, ensuring something for every bridal party. By opting for cost-effective options, you can save money without compromising on the overall aesthetic and elegance of your wedding. Remember to consider factors such as fabric quality, design versatility, and the preferences of your bridesmaids when making your final selection. With these top choices, you can confidently dress your bridal party in stunning eucalyptus green dresses while staying within your budget. Your bridesmaids will look beautiful and appreciate your thoughtful consideration of their comfort and style.