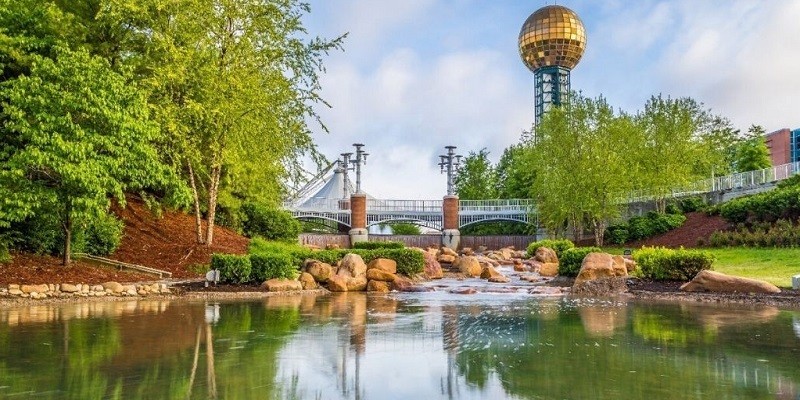 Top Places in Knoxville, TN For Vacation
Knoxville, TN is a city where there is fun, food, music, entertainment, festivities, and more. This city has something to offer to everyone. As a result of this, it serves as an attraction for a lot of tourists. In this article, we have compiled a list of top places you can go for vacation in Knoxville;
World's Fair Park
This park is where the 1982 world's fair took place. It is one of the beautiful places to explore in Knoxville, TN. The world fair park has various features such as a sun sphere, beautiful landscape, festival areas and water-play areas.
The sun sphere is a gold-inlaid tower where you can enjoy the beautiful and scenic view of the city. For just a $2 elevator ride you can enjoy and take pictures of the beautiful view.
Downtown Market Square
This square is a fun and lively place to be at any time of the year. It has various shops where you can go shopping for various gift items for your loved ones. Besides, it has varieties of restaurants where you can enjoy any meal that strike your fancy.
There is water-play at the market square where you can be tempted to cool off on sunny days. The square holds lots of concerts and performances all year round thereby making it interesting. In addition to that, there is the market square farmer's market. The goods sold are the farmer's market are raised and produced by the seller.
Knoxville Zoo
With over 900 animals from all over the world, the zoo is one of the city's best attraction spots. You get to ride a camel, feed a giraffe and enjoy everything that the zoo has to offer. It is also a great spot for children as a wee play adventure organizes an interactive jungle experience for the kids.
This way, the kids learn while they are catching fun. The zoo is open all the days of the year for an adventurous animal encounter. All these attributes make this spot great for vacation.
Read More – Private Jet Charter vs. First-Class: What's The Difference?
East Tennessee History Center
At East Tennessee History Centre, the town's history is kept alive through an award-winning exhibit, educational programs and more. It is managed by the East Tennessee Historical Society. The centre serves as a museum to various artifacts and stories of 300 years of Knoxville life.
History fair, outreach programs, genealogical workshops, and a host of other events are being held at the centre. The centre is open all year round. So if you have a flair for history, you can explore this spot.
Tennessee Theatre
The Tennessee theatre was also known as the 'movie palace' was opened in 1928. The theatre was constructed in a Spanish-Moorish style and adorned with the most beautiful materials available at that time.
After it was restored in 2005, the theatre started offering movies and music concerts suitable for everyone. If you are planning a romantic vacation, you should pen down watching a performance at the Tennessee Theatre in Knoxville.
Ijams Nature Centre
Ijams Nature Centre has been available for nature lovers to enjoy for over a century. Harry Ijams developed the centre as a bird sanctuary. However, it has grown from a 300-acre park to a wildlife sanctuary and environmental learning centre.
Its trails, creeks, groves and more are available for tourists to explore. This centre offers a wide range of fun and educational events for both adults and children to enjoy.
Read More – Top Seven Things to See and Do When Vacationing in Santorini
Blount Mansion
William Blount built the Blount mansion in 1792 when he announced Knoxville as his capital. He was a signer of the US constitution and also a governor of the southern territory.
The Blount Mansion was recreated and restored to tell stories of how Knoxville was formed. In 1926, the Blount mansion association preserved it to show the rich history of Knoxville city. It is open to visitors only on Tuesday through Friday.
The Old City
A vacation in Knoxville is incomplete if you do not visit the old city. The city is a perfect blend of architecture and art. Although it holds the secret of Knoxville's past. However, it has become a perfect tourist attraction.
There is a great concentration of art galleries, graphic designs, trendy shops and restaurants during the day. However, at night it becomes livelier with music concerts and a whole lot of other festivals.
Knoxville Botanical Garden
The botanical garden is a beauty to behold with different species of flowers and plants. The blooming garden of various species of flowers and plants has calming effects on most tourists. Therefore, it is a good place to visit during vacation.
Final thoughts
Knoxville is a good vacation spot where you get to enjoy a lot of natural vacation spots. The best thing is that these spots cost close to nothing. So, pack your bags and enjoy your stay in Knoxville.