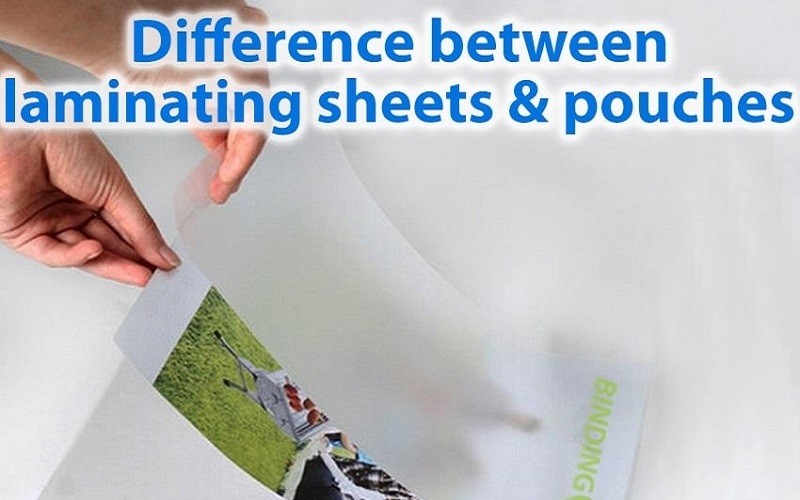 What are the differences between laminating pouches and sheets?
Adhesive and polyester are the key ingredients for making laminating pouches. The laminating pouches do have high polyester to adhesive content when compared to lamination film.
This does make the lamination pouches feel more rigid as well as stiff than similar products, which have been laminated with the roll film. There are very many options when it comes to thickness, finishes as well as types of the roll.
Read More – 5 Tips On How To Afford Luxury Designer Items
Lamination pouches offer the best protection to your documents. Since they encapsulate page completely, both front, as well as backsides of the page, protection of your document is there.
In addition, they also double the stability as well as the rigidity of the documents hence making them durable and resistant to tears and bends.
What are the differences between laminating pouches and sheets?
A laminating pouch is a piece of the laminate film which does have a pre-sealed edge on one side and then connecting it to another piece of the laminate hence creating a pouch or a pocket.
The laminating pouches are an excellent choice for two-sided laminating and do come in either the thermal pouches or cold pouches. When it comes to the cold ones, you can easily make them by hand without the need to use a machine, or it can be used with any laminator, which does have a cold setting
The thermal pouches do require a heated pouch laminator to be able to seal. The laminating pouches are the perfect all-around protection for the documents such as photos, ID cards, multi-use documents, and many more.
The laminating sheet is a single of the laminate film, and it is not sealed or even attached to the second sheet. A laminating sheet is used for the single-sided laminating.
They are often self-stick, meaning that they don't need any heat or machine to be able to laminate the page. Laminating sheets are excellent choices for fliers, certificates, schedules, signs, and many more.
Available sizes are limited, but they can be trimmed down to the extent that one requires. They provide more stability to the pages over the plain sheets without complete protection from the spills as well as bend, which you would get from the fully encapsulated laminating pouch.
How many types of laminating pouches?
There is a wide variety of supplies that you can use with devices. To be specific, there are five different kinds of laminating pouches which do come in different sizes as well as thicknesses, from 1.5 mil to 10 mil.
Knowing the available supplies can quickly help you to be able to make the right choice when it comes to purchasing them. Here are five types of laminating pouches.
1. Thermal
Thermal pouches are popular and are the most common type of laminating supplies. They contain adhesive, which is active by the machine's heat.
In addition to the standard, everyday packets, which are premium thermal supplies available and they are perfect when you want to preserve the document for a long time.
Such items will be able to prevent the document from becoming discolored or even faded as well as some of them can offer the UV protection.
2. Self-sealing
These types of packets are what one needs when one wants to do the cold lamination. They can also come in handy when you are in need to laminate something, but you are not near your machine.
3. Sticky back
These are innovative products. They can protect your document from spills, rips as well as other damages. Also, they do have a liner on the back, which you can remove to be able to reveal adhesive backing.
4. Matte
These items do have a non-shiny surface, which can be written on with Sharpie or even ballpoint pen. Depending on the needs, one can use one that has two matte surfaces or one with the glossy side as well as a matte side.
5. Colored
These products offer a quick as well as an easy way to make the documents more noticeable. Each one does have a clear front as well as a colored back. The available colors include black, blue, white, and red.
How to select the right laminating pouches for your project?
Choosing the best laminating pouches to be able to fit the project depends on several factors. Such factors include the project size, durability for the project as well as if extra protection is necessary for the document. Here are the basic tips for selecting the laminating pouches when one is preparing for the project.
i. Best pouches for the card laminating
If you are laminating the business cards or even recipe cards, durability requirements are the same; strong 5 mil. Pouches are necessary for both. Select file card pouches which have been designed for protecting the index card size documents.
ii. ID Tags and the Luggage Tag Laminating
5 mil ID tag pouches are suitable for the durable identification cards as well as can also be equipped with the clip or even punched for adding the lanyard.
If you are working at demanding conditions such as the construction sites or even the heavy-duty works, you may need 10 mil ID tag pouches for greater durability.
iii. Documents which have minimal handling laminated protection
Thick pouches can compromise flexibility. When you require a document to stay protected while also being reasonably flexible, you can use the laminating pouches, which has 3 ml thickness.
Documents which have heavy handling laminated protection
For high protection, 7-10 mil laminating pouches are quite essential. With extra thickness and rigidity, they are ideal for signs as well as other documents that are either handled with high frequency or even have to hold up under heat or even humidity.
iv. Photos as well as Image-based documents
When you are laminating, a 5-mil laminating pouch will work for protection. But, for an added endurance, you must choose laminating pouches which have UV protection to be able to prevent laminated photo from fading.
What supplies should you have with a pouch laminator?
By now, you may have done it! You have the pouch laminator so that you can be able to protect as well as preserve important documents. Well, do you have supplies that are required to get the job done? Here are three must-have pouch laminator supplies.
i. Laminating pouches
This is the first essential that you require so that you can use the pouch laminator. Ensure that you can keep a very good supply of them on hand so that you can laminate whenever you need to.
ii. Laminating foil
If you want to add elegance to the documents, then get to add a bit of the laminating foil to them. The laminating foils are available in a wide range of colors, and it works with the laminators, which can handle 10 mil pouches.
iii. Carriers
A carrier is similar to a file folder as well as while there is one in every package of pouches, you can be able to purchase them separately. A carrier will be able to keep the document flat as it is being laminated as well as keep the inside of the machine very clean.
Should you have it at the office? Why?
It is essential to have the laminating pouches in the office. It is a secure way to be able to protect the important documents as well as presentations and be able to prolong their lifespan with a wide range of the laminating machines as well as pouches.
With the machines available in numerous sizes and the pouches available in numerous thicknesses, you can be sure that the documents will be durable and long-lasting.
Read More – 6 Tips to Make Fitness A Real Pleasure
Laminating is an excellent way to ensure that the documents, as well as the display materials, always make a very good impression. Laminators are very versatile, but to be able to get most from the laminating machines, you will need first to be able to understand the laminating pouches.
The laminating pouches usually differ in three major ways: size, finish as well as thickness. Laminating pouches that you shall use can greatly alter the finished result; hence you must choose the laminating pouches which are best suited to the specific application.
DON'T MISS