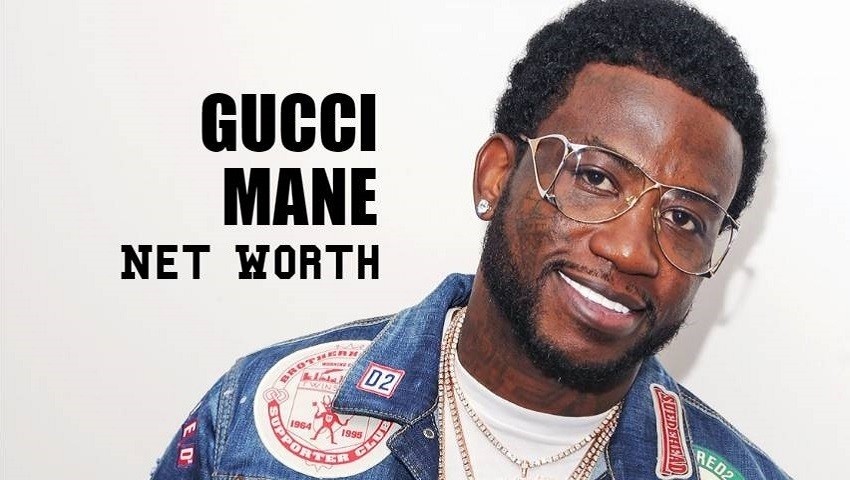 Gucci Mane Net Worth 2023
As of 2023, Gucci Mane's net worth is estimated to be around $14 million.
Gucci Mane is an American rapper with over 70 mixtapes and 12 studio albums under his name. He's also notable for starting 1017 Records (a music label) and helping pioneer Trap Music (a subgenre of hip-hop music) alongside Young Jeezy and T.I.
For the past 17 years, he got the chance to work with several artists including Drake, Chris Brown, and Lil Wayne.
His first number-one single on the US critically-acclaimed Billboard Hot 100 chart was Black Beatles", which was a 2016 collaboration with Rae Sremmurd.
In this guide, we highlight Gucci Mane net worth and career life.
Evaluating Gucci Mane's Impact on the Music Industry
Early Life
Also known as Radric Davis, Gucci Mane spent most of his elementary school time in Birmingham, Alabama writing poetry and composing rhymes. He relocated to Atlanta, Georgia with his single mother when he was in the fourth grade.
He also knew the basics of music recording and rapping by the time he started high school and drew lots of musical inspirations from rappers such as Master P and Big Daddy Kane. Gucci Mane age is 38 years.
Career
Big Cat Records signed Gucci Mane after his debut single "Black Tee" became a hit in the local hip-hop scene. Under the company's management, Davis released "Trap House," which was his debut album that reached number one on Billboard's Heatseekers chart.
Trap House comprised of singles such as "Icy," which featured Young Jeezy.
In 2006, Gucci Mane released "Hard to Kill" as his second album. He also released "Back to the Trap House" in 2007 and 'The State vs. Radric Davis" in 2009.
"Everybody Looking" was his ninth studio album released under his company, Guwop Enterprises. The album made a debut in the second place on the Billboard 200 chart. Gucci Mane released "Woptober" five months later.
Towards the end of 2016, Gucci Mane released "Return of the East Atlanta" album, which debuted at 16th position on the Billboard Top 200 chart. Davis joined forces with Shawty Redd (a music producer) to release an EP titled "3 For Free" in 2017.
He also collaborated with Metro Boomin (a renowned music producer) to release "Drop Top Wop" in the same year. Other music projects include "Mr. Davis" and "El Gato: The Human Glacier."
Gucci Mane Net Worth
Gucci Mane earns his income primarily from music (single and album sales, tours and endorsements).
He also got his income from acting in movies such as Birds of a Feather and Spring Breakers and revenue sources including Delantic (a clothing line) and The Autobiography of Gucci Mane (his official autobiography).
Gucci Mane Net Worth 2021
As of 2021, Gucci Mane's net worth is estimated to be around $14 million.
Career Highlights
With his extensive discography, Gucci Mane is among the prolific rappers in the global hip-hop scene.
"Black Beetles," a song Rae Sremmurd featured him, got a nomination for BET's Coca-Cola Viewers' Choice Award and Best Collabo, Duo or Group Award in 2017.
His mixtape "Droptopwop" also got a BET nomination for the Best Mixtape Award.
"Down" in the same year, a single that Fifth Harmony featured Gucci Mane, managed to win the Best Pop Video Award at the 2017 MTV Video Music Awards.
Favorite Quotes from Gucci Mane
"A lot of times when you keep it real with somebody, you can't expect them to keep it real with you." – Gucci Mane
"Sometimes you almost have to laugh to keep from crying to deal with the pain associated with the 'hood." – Gucci Mane
Gucci Mane Motivational Video
Summing Up
Gucci net worth is derived solely from the sale of albums and endorsements. Besides, each year, Gucci net worth continues to grow due to high number of endorsements he gets from the corporate world.
Other Celebrities' Net Worth