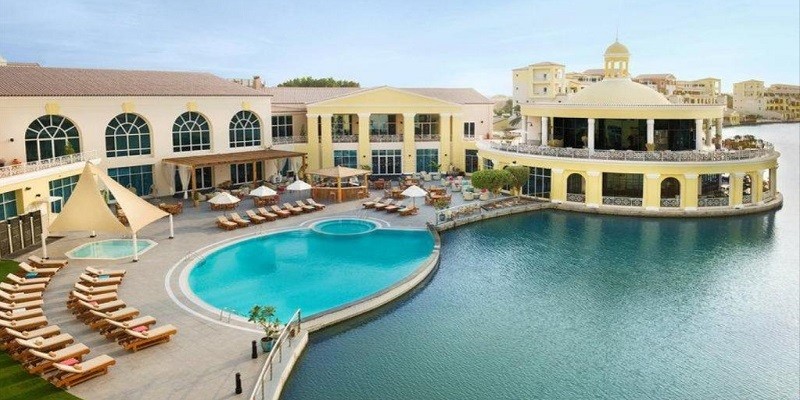 Your Guide to Living in Dubai's Green Community
As the name suggests, Green Community is an environmentally friendly residential community in the city. It boasts a number of gardens and parks. This astonishing community is developed by Properties Investment LLC which is a joint venture between Union Properties PJSC and Dubai Investments PJSC.
This contemporary eco-friendly development offers a modern vibe and numerous low-rise townhouses, apartments, and standalone villas. Although you will find commercial properties, most of the community is dedicated to trees, landscaped gardens, swimming pools and parks which regulate sustainability.
An overview of Green Community
Green Community is a gated residential community in the city of Dubai. It is located inside the Dubai Investments Park (DIP). This is a mixed-use complex located alongside the Jebel Ali Industrial area.
This area is in the middle of Jebel Ali Al Habab Road and Sheikh Mohammed bin Zayed road. Green Community is spread out in 67 hectares of beautiful greenery. The properties included in this expensive community are retail, residential, commercial and leisure.
Green Community is very far from the noise of the city but the impressive thing is that it is still very near to landmarks and famous roads. There are many villas and apartments inside the community. Explore here more to know if this is a good time to buy a condo in toronto.
Popular Attractions
For the residents of this community who work in DIP, their biggest attraction is being able to reside in this stunning neighborhood and not get bothered by traffic in order to work. There is a special community center and luxurious amenities in the neighborhood.
The residents are offered the option to go to spas, swimming pools, fitness clubs, and break their sweat in the sports facilities. Outside, there are squash and tennis courts. Plays, outdoor concerts and other events take place in the amphitheater.
Above 10% of land in the Green Community is dedicated to greenery and conservation. This means that the residents can enjoy waterways and landscaped parks.
If you love shopping, you will be thrilled to know that there are two shopping malls. The first shopping mall is called The Market which boasts 86 retail units.
These include coffee shops, a supermarket, a medical clinic, restaurants, gift shops, banks, a hair salon, a bookstore and a pharmacy. Another shopping mall is located in the nearby community in DIP which is Ewan Residence. This mall is called Souk Extra which consists of a pharmacy, 18 shops, a dry cleaner, a Spinney's supermarket, and a bureau de change.
There is a trademark hotel of Green Community which is called The Courtyard by Marriott Dubai. 2 more hotels are located in the neighboring areas: Armada and Premier Inn hotels. Six additional hotels inside the DIP have been decided for construction due to the high demand.
Traveling Around
Green Community can be easily entered by either Yalayis Street and Sheikh Mohammed bin Zayed road both. The nearness of these highways means that going to other areas of the city is very simple. The travel time by car from Green Community to Jebel Ali takes a total of 19 minutes.
For the Mall of the Emirates, it takes 25 minutes. To reach Dubai Marina, it requires 23 minutes. To go to Abu Dhabi, you will need 1 hour and 10 minutes. As for Dubai Mall and Dubai International Airport, you need 28 and 34 minutes respectively.
Living in Green Community
There are many residential choices in this community which range from apartments, villas, townhouses and studios. These types of properties can be found in Lakeside Green Community West, Green Community Villas, Terrace Apartments, and Lake Apartments.
There are 1,555 bungalows, townhouses, apartments and villas in total within the community. In the middle of 2017, 226 units were added in the Green Community West which had it's construction started from 2015.
Inside the DIP, there are 5 schools. These are Dovecote Green Primary School, Al Nibras Private School, Greenfield Community School, Al Worood International Private Academy School and The Children's Garden kindergarten.
Some of the best amenities are a bookstore, Spinney's supermarket, spas, swimming pools, a community center, a medical clinic, a hair salon, hotels, sports facilities, a pharmacy, restaurants, a shopping mall, fitness studio, an amphitheater, parks, banks, open spaces, cafes, water features, squash and tennis courts.
It takes around 28 minutes to go from Green Community to Dubai Mall, 24 minutes for The Walk JBR, 24 minutes for Burj Al Arab and 23 minutes to Palm Jumeirah.
As for the Dubai International Airport, it is 29 minutes away. These time estimates are calculated by Google Maps by taking the fastest route in normal traffic.
The nearby attractions are Sustainability Pavilion and Jumeirah Golf Estates Golf Course.
Public Transportation
The nearest metro station from the Green Community is Dubai Investments Park, situated on the Expo Route. The F46 and F48, both buses link the community to the metro and other areas of the city.
Sub-Communities of Green Community
There are currently 7 sub-communities inside the Green Community. These are Garden West Apartments, South West Apartments, Garden East Apartments, Lakeview Apartments, Green Community East, Green Community West Townhouses and Green Community West.
Renting Properties in Green Community
The apartments available for rent in Green Community are brightly illuminated and huge giving in varying configurations. The rent for a studio apartment has a starting price of AED 30,000 each year whereas the rent for a single bedroom apartment is AED 49,000.
Similarly, yearly rental price of 2 bedroom apartments varies from AED 80,000 to AED 105,000. As for a bigger 3 bedroom apartment, the cost is AED 119,000.
For a studio apartment, the average rental cost is AED 33,000. For an apartment having 1 bedroom, the average rental price will be AED 49,000. For an apartment giving 2 bedrooms, you will have to pay AED 86,000 for rent.
And lastly, for a 3 bedroom apartment, the cost is AED 119,000. In case you want a villa having 3 bedrooms, the average rental price is AED 140,000. If you want a 4 bedroom villa, rent will be AED 159,000. For 5 bedrooms, the price will go to AED 188,000.
Read More